A 3 Michelin Star Restaurant
Hey Belleza,
Did you know that experiencing a 3 Michelin Star restaurant was on my 2019 wish list? I am telling you; if you can dream it and put it out in the universe, you can make it happen. Just recently my hubby and I won a special night at the well-known Michelin 3 Star restaurant, The French Laundry. Chef Thomas Keller opens his doors to Yountville residents every year for a local's night drawing. Wooohooo!!! I don't think I believed it until we were there. I actually think am still on cloud nine as I reminisce on this fabulous and unique experience.
How did you win the French Laundry's Yountville Residents night? The million-dollar question.
Early in April there was a drawing posted in our local Yountville paper. French Laundry was hosting its annual locals night for Yountville residents at a discount price of $49.00. Back in 1994 when The French Laundry opened doors the menu price was $49.00 for a seven-course meal, talk about flashback to the 90s. Luckily my hubby reads the Yountville newspaper every week.
"Babe! Chef Thomas Keller is doing a drawing for local Yountville residents to win a night at the French Laundry", my hubby tells me.
My response:
"Bueno pero que esperas llena eso YA. Y mándalo YA. ¡¡Pero YA!!" (Sorry that has to be in Spanish)
Two weeks passed and I was still seeing the contest application with our information traveling around our house. At first, I thought well, maybe he already sent it in and this is just another copy?! I didn't ask because I figured he mailed it on the day he told me about it. Then a week later, he tells me "babe did you mail it". (Lo queria matar) My I am going to kill you face happened. As soon as we got home from work the first thing we did was to mail our winning ticket. My hubby literally got home and went straight to the mailbox. LOL 😂
Then he's like, "Babe but this week is the last week to participate and it isn't in the paper again, so I think we have a chance".
I told my hubby that this year there are two things I want and I am putting it out in the universe, dining at The French Laundry and our baby Tigrett. And if we go to The French Laundry while we are pregnant then we will have to go again so I can actually enjoy it while not being so concerned on what baby Tigrett is "tasting". To think about it, he'd probably be the first baby to go to The French Laundry. Hummm 🤔… Not a bad idea. Note to self!
The moment we found out we won!
On Friday April 26th, 2019 my hubby received a call with caller ID from Yountville. First ring. He's like, well it's not my brother because he is out of town. Second ring. Could it be a patient? Third ring he picks up and has the OMG face. The French Laundry calling to let us know we won! He had a huge nervous smile and asked me, "babe what do we have on May 1st ? ". I still had no clue what was going on. I was like, "I don't know babe, why? Just check our iCal". The next thing I see is him writing—
TFL May 1st, 2019 @5:30pm. (TFL for The French Laundry)
I was in shock.
How we prepped prior to attending The French Laundry?
On May 1stwe decided to get out of work early and also to have light meals prior to going to The French Laundry. I had a protein smoothie and granola the entire day and tons of water. If you have the chance to dine at The French Laundry I strongly suggest you take it easy prior to the 8-course feast. We also decided to block our morning the following day. 😊 This way we can enjoy the night to the fullest without struggling the next morning. I am so glad we did it because neither my hubby nor I wanted to leave The French Laundry. You will see why in the video.
What is their menu like?
This was an 8-course culinary experience. When we arrived, they walked us to the upstairs dining room and let us know that Locals Night would be shared at communal tables. I love communal tables because you get to meet so many interesting people. That was when it hit me. I am at the famous two-story stone cottage of Chef Thomas Keller. I am at The French Laundry! This had more of an iconic sentimental meaning because it was like stepping into the culinary dream that Chef Keller envisioned back in the 90s and seeing the fruit of his labors. I started looking around as we waked in and noticed the restaurant still holds that classy rustic French feel.
Soon after, Michael Minnillo, General Manager comes to introduce himself. In my head, I am like— "OMG. Wait. I know you dude. You are in the famous champagne saber video that went viral!" LOL 😆 But of course, I did not say that. We are at The French Laundry. Plus, it says on their cloths pin napkin holder, which I love the phrase and uniqueness of it.
"It's all about finesse"
On our communal table we sat with another chef, Chef Austin who works at Bouchon. He moved to Yountville about 8 months ago and Chef Thomas Keller has been his role model for a very long time and the one that got him to follow his passion into the culinary world. I was so impressed by his determination. He was celebrating his 21stbirthday. Not too shabby of a Birthday celebration for legally entering adulthood. David's story is super inspirational.
Let's explore the 8 course Menu.
So here is a walk along memory lane at The French Laundry Yountville resident's night.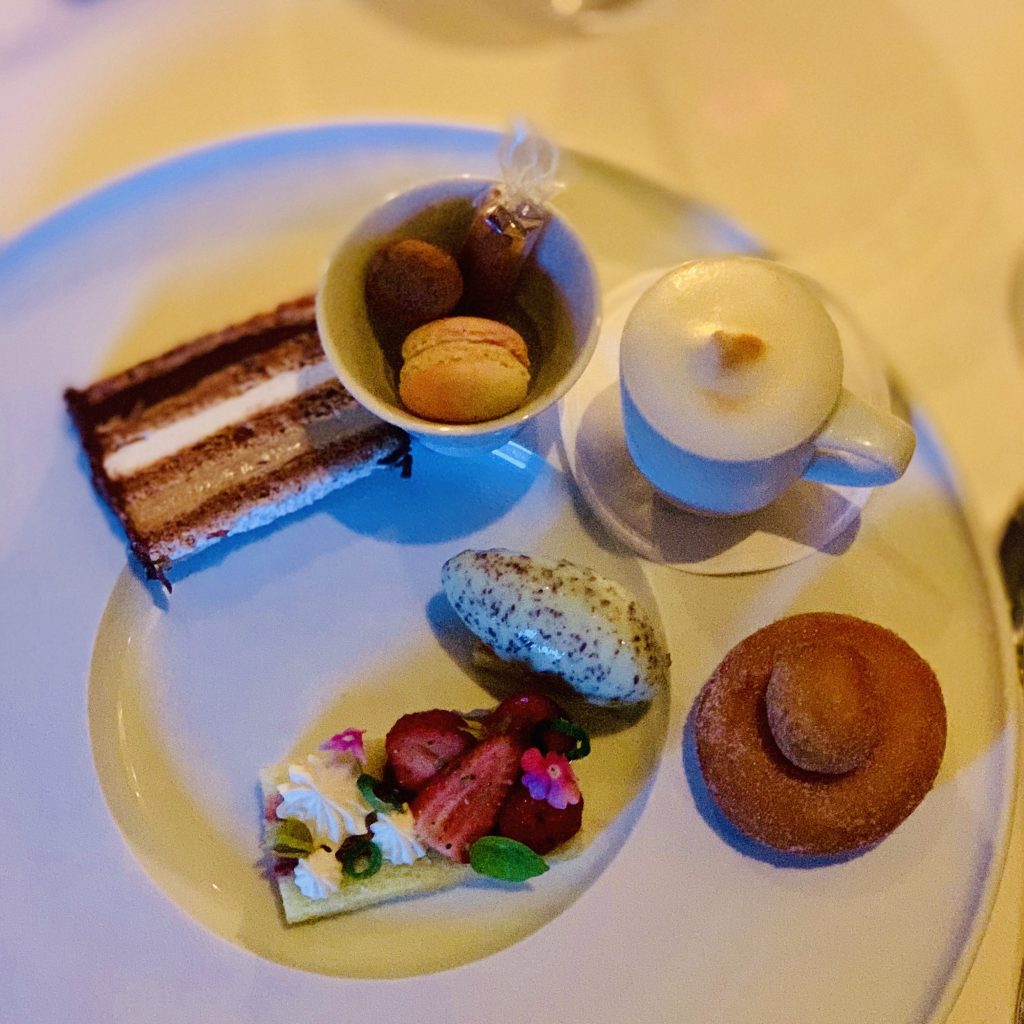 My admiration grew even more after learning the history of the mastermind behind The French Laundry
If there is one thing I'd have to say about dining at The French Laundry, it's that I feel extremely honored to have been picked by Chef Thomas Keller to join a total of 30 winners. According to the 2010 U.S. Census, Yountville population is 2933 and about one third of that lives in the Veteran's Home located within the town of Yountville. It is even more impressive that any veterans that enter are invited. This just fills my heart so much. And this is what makes Chef Thomas Keller so special.
For those that may not know, Chef Keller's dad was a U.S. Marine Veteran and so he is a huge supporter of the Veteran community. He pays so much respect to our country's heroes that every day before dawn the American Flag is raised and at sunset is taken down and carefully folded. Oh! And if it starts raining someone will run to take down the flag and fold it properly.
This is quite admirable to say the least. One of the most acclaimed restaurants world wide, The French Laundry, offers this unique experience to Yountville residents and to our veterans. Hats off to you Chef Thomas Keller and to your amazing team for all the hard work, all the love and support you give to our community. I feel so honored to have experienced the Yountville Resident night and to have learned more about your story.
This is definitely a blog post where I don't want to say goodbye. Before I do, meet The French Laundry Kitchen!
Oh là là! ¡Es una belleza total! Y a mi que no me gusta cocinar pero es que esta cocina es un espectáculo. On our way out, we were taken on a tour of the kitchen and got to see where all the magic happens. I was so impressed how extremely neat, clean and organized it is. I love that Chef also has motivational quotes at the serving table. Every day is a different quote to reflect on. And if you see my Instagram feed and IG stories you all know how much I love quotes. Then again who doesn't love inspirational quotes and stories?!
Coming from the appliance world I love to see a state-of-the-art kitchen. For those that may not know, I used to sell General Electric Appliances to Latin America and the South Florida market back in my corporate days. Therefore, I have a true admiration for kitchens that are well developed. The French Laundry Kitchen just blew my mind. I was so impressed with the double door, pass through, oven. When I mean double door, I mean that the oven opens on both sides so that if you are on the other side of the island you can get to the dish that's being prepared. ¡Que tal!
OJO: These custom ovens are designed exclusively for The French Laundry and so are the professional hoods as well. I won't get too technical because I am going to bore you. But for a girl that does not like to cook I sure know when it's an amazing kitchen. You can absolutely feel the inspiration in the design of the kitchen, the tailoring of the appliances and interaction that each role takes. Most importantly as they say "location, location, location". The location of everything was extremely thought out. Talk about commitment and persistence to excellence, a huge kudos to Chef and the team.
"Behind every great leader is a great team!"

-unknown
So Bella, if The French Laundry is on your bucket list, it's time to make it a reality. Les comparto la información para que llamen. Make your dreams a reality. ¡Vale!
6640 Washington St.
Yountville, CA 94599
(707) 944 – 2380
Search Reservations: https://www.exploretock.com/tfl
I still get chills thinking about our French Laundry night. Did you know that The French Laundry will be celebrating 25 years this July? For 25 years Chef Thomas Keller has been delivering fine dining and not only that but I also found out thomaskeller.com that, "since 2006, the Michelin Guide has awarded The French Laundry their highest rating of three stars, making Chef Thomas Keller the only American-born chef to have two three-starred Michelin restaurants".
I've been reading more of Chef's accomplishments and I am just speechless and building more admiration than ever before. (Tranquis mis girlies bellas porque he's on my bucket list of podcast interviews!)
THANK YOU BELLEZA!
I feel extremely fortunate to have had such a memorable and unique experience. I'm feeling extremely blessed to be able to share this experience at The French Laundry through this blog. Gracias Bella for encouraging me to write about it. Now I know why I love to share stories about wine and wine country living. It allows me to relive an amazing vacation, in this case a culinary vacation that I desired for a very long time. Celebrating 25 years of French Laundry during Yountville resident's night is an experience I won't forget.
Like Chef Thomas Keller says:
Bella, if you loved this blog share it with your besties. I also love to read your comments below, see what you thought, and hear questions or ideas for my next blog post!? Share it conmigo. ¡Vale!
Recuerda. Life is way too short.
¡Descubre, saborea y brinda!
Con mucho cariño,
P.S. Want to stay in the loop about what's happening in the Valley?
Subscribe to my monthly newsletter. Let your #NapaVale girl 💃🏻 Get You Tipsy! 😜🍷😋