Hola Belleza,
Many of you have asked me what to do and where to go on your first visit to Napa Valley. I am going to share with you my first experience in Napa along with 6 tips from what I learned on my first visit.
As many of you know, I love planning vacations and more when there is wine involved. This time the trip planning was up to my hubby since he lived in San Francisco while he was at University of Pacific Dental School. We decided to leave 100% of the plans to him, leaving it all a surprise for me. This would be my first time coming to the Bay Area. I was so excited to see the San Francisco Golden Gate Bridge and the drive up to wine country, Napa & Sonoma.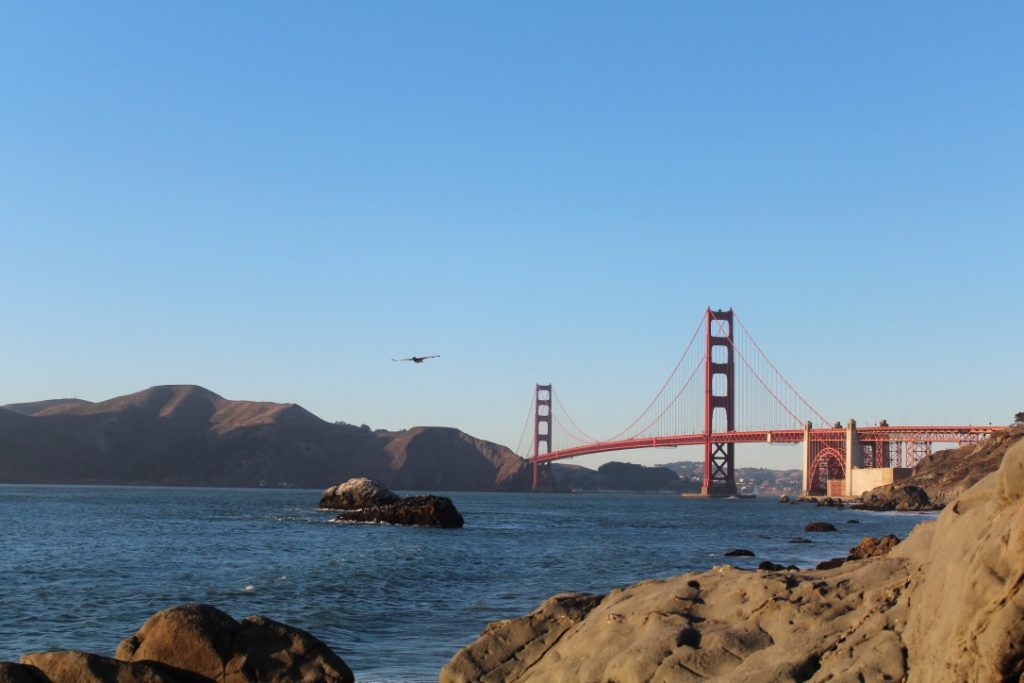 Little did I know we planned for three days (2 nights to be exact) in Napa Valley. I should have known this part in advance. I probably would have asked for the whole week stay. LOL. As we drove to Napa through Sonoma on Highway 12, I was like a little kid driving into Disney World. Seriously, it was déjà vu to entering Magic Kingdom for the first time. I wanted to stop everywhere and hop on every ride. We had rented a convertible so I was going crazy taking photos, and every 5 minutes asking my hubby to stop for a photo.
We finally arrived at our hotel. It was so cute and just a few blocks away from Sonoma square which I absolutely love. We stayed at El Pueblo Inn a family-owned Sonoma Valley Lodging.
What I love: Love the spacious rooms and its wine country feel. Clean, quiet, cozy, charming and super nice staff. Close to Sonoma square and highway 12. Perfectly situated if you are driving in from San Francisco and your gateway to your wine country adventure.
896 West Napa Street
Sonoma, CA 95476
(707) 996-3651
Lessons Learned from Our First Visit to Napa Valley.
Being a Miami girl I was used to arriving late, dinners at 10PM and parties starting at midnight. LOL Not in wine country. When we arrived in Sonoma we stopped at Chateau St. Jean and St. Francis Winery & Vineyards wine tasting room luckily we made it just before they closed. Here we got to taste many different varietals. First lesson learned was starting the day early. We decided to continue on to Napa the next day.
Second lesson learned, reservations will make the most out of your trip. Since we had friends that lived in Napa we thought we could just ask them for recommendations and walk into any winery. Again my Miami/Venezuelan mindset. Hahahaha.
If there is one thing I want you to take away from my experience is that I strongly suggest you reach out to wineries at least 6 months out. Even if you have friends that work in wineries; they will also appreciate if you let them know well in advance. Remember you are in the Disney for adults so Napa and Sonoma are attractive destinations year-round, all seasons! The more exclusive the wineries the less availability they have for tastings. They get booked very quickly, at least the ones that are limited to small groups for wine tours. Luckily, we were able to get into two wine tours thanks to our family friends' hookup who will remain unnamed so he doesn't kill us. 🤪
Tip One: Taste Small Production Wines.
On our first stop, we went to Ma(i)sonry located in Yountville. This was like my dream come true. We were there from 10AM -2pm tasting small production wines. We had Skipstone 2009, TOR, Renteria, and the famous late harvest wine from Roger Harrison. Our palates were in heaven and our credit card got pushed to its limit on that first stop. We decided to have an early Christmas gift from us to us. We selected a bunch of wine and anxiously waited for the wines to ship. Visiting small production wineries brings you a story and an experience you won't forget ahem… I mean your palate won't forget.
OJO: This was back in 2012. Ma(i)sonry, now owned by Restoration Hardware, has renovated and changed the experience but still pours many of the same wines.
Ma(i)sonry at RH does offer some remarkable small production local wines and is a good place to start to sample a wide range of varietals but if you already know what you want, plan ahead and you can find yourself walking through the vineyards with a unique tasting experience at your favorite small production winery.
RH Wine Vault – the historic Ma(i)sonry Building
6711 Washington Street
Yountville, CA 94599
(707) 339-4654
Tip Two: Schedule White Wine Tasting Early in the Day.
Our next stop was Chandon in Yountville. Since we were already in Yountville, we said why not go to Chandon. We didn't do the tour because, again, we didn't plan in advance. They do take walk-in's which is what we did. We had bubbles tasting and oysters while we waited for our reservation that we made on that day at Ad Hoc. The good news is that we were able to sneak in a last-minute tasting, the not so good news is that our palates were already tannic from the red wine tastings we did prior. If we had planned in advance, we would have done sparkling tasting first followed by red wine tasting. Plus, it's always a great idea to start the day with some bubbles! 🥂
6476 Washington Street
Yountville, CA 94599
(707) 944-2487
Tip Three: Plan Your Meals in Between Tastings.
Making brunch, lunch and dinner reservations it's highly recommended. If you can, plan where you want to eat between tastings. It will be much better, as there may be long waits and you may miss your next tasting experience that you've been longing for. This is especially true if you have a favorite restaurant or cuisine in mind. We were able to get reservations in some restaurants and in others we had to wait a long time or just sit at the bar. We both love to sit at the bar because we can get to know the staff and chat with other interesting people. But, if this is not your cup of tea, then set up your reservations the moment you know which wineries you will be visiting to make the most of your time.
OJO: Now, if you are in the mood for grabbing a baguette, some cheeses and charcuterie, it's a good idea to ask the winery if they have a picnic area as some wineries don't allow impromptu picnicking.
Tip Four: Make Wine Tour Reservations Well in Advance.
Pride Mountain is one of my favorite wine tours for first-time Sonoma and Napa visitors. I love Pride Mountain. The winery is located on the boarder of Sonoma and Napa. There is even a Napa and Sonoma dividing line right down the middle of their crush pad (A crush pad is the outdoor area where the grapes are processed). Pride is reservation only. No walk-ins. I love Pride so much because of the panoramic scenery and delicious red wine. The most special part of Pride for me is their wine team. They are all very friendly and knowledgeable. So this is a great starting point to your Napa and Sonoma wine tasting experience.
4026 Spring Mountain Road
St. Helena, CA 94574
(707) 963-4949
Tip Five: Getting Tipsy! Or Wine Tasting?
If you really want to experience wine country and remember all that you tasted during the day I suggest you keep it at two wineries per day and remember its okay when wine tasting to pour some out.
OJO: Getting tipsy is okay. LOL. Trust me I did that on the last day of our trip because I didn't want to leave wine country.
I was strongly insisting to my hubby that we stay longer and change the rest of the trip he had planned; which was going to Yosemite National Park. My poor hubby had to hear me wine I mean whine on our 4 hour drive to Yosemite because I wanted more Napa and Sonoma time.
On our way out of Napa we stopped at Duckhorn Vineyards which is another widely known winery to visit and usually no reservation required, but definitely encouraged. By this time, I crossed the line of wine tasting to wine drinking. Then again it was my last day in wine country… so I thought! 😉
100 Lodi Lane
St. Helena, CA 94574
(707) 963-7108
Tip Six: Have a Budget in Mind.
We blew our budget on our first stop at Ma(i)sonry with absolutely no regrets. But, if you want to get the most out of your wine country experience, and you have a budget in mind; I strongly suggest you plan in advance the varietals you want to taste and set a budget for wine tasting and tours. Its best to also plan for the wines you want to take back home.
Remember, there is always the option to become a wine club member which we did too since we did not know when we would be back again to Napa and Sonoma. If your motto is Y.O.L.O. and you want to be adventurous and budgeting is not your thing, that's okay too. We did it and love that we were able to squeeze as much as we could out of every wine experience.
However, I've had friends that let me know well in advance their budget and tell me that they'd rather do one tour a day at $35- $50, one at $100 (depending on the experience) and buy a couple bottles. If you are traveling in groups, set up everyone's expectations in advance too so the trip is drama free. Some wineries may comp the tasting if you purchase a certain amount of wines or sign up for a wine club membership.
OJO: You are going to want to take home everything that your palate desires and will be craving it when you are back home.
Ready to Plan? Let's Get Your Wine Country Vacation Started!
So, plan on two wineries a day; see how many wineries you want to visit, then you'll know how many wine days you'll need. You may also want to plan a day of non-wine activities in between to give your liver a rest. This is where I start when booking a visit for family and friends. This way I make their itinerary diverse, with their budget in mind and I am sure to give them a taste of wine country that will bring them back again and again and again. With over 500 wineries I'll have no problem persuading them back to experience all of the diverse Napa charm.
I hope the 6 tips I shared with you help you plan the most memorable trip when you visit gorgeous Napa and Sonoma. If you are like me, you will squeeze the best out of every moment on your wine adventure.
Recuerda.


"More important than wine tasting is the person with whom you share your wine adventure. Cherish each moment a sip at a time. ¡Vale!"

– NAPA VALE GIRL
Share with me:
Bella, let me know how your first visit to Napa Valley goes? If you are in planning mode I'd also love to hear about it in the comments!
Cheers to exploring wine country,
P.S. The number of days you visit may not be enough but that's okay because that means you will come back to visit again and again and again. #GetTipsyConNapaValeGirl